4th International Choral Composition Competition dedicated to Komitas Vardapet, the song that rises above the snowy peaks of Armenia
Andrea Angelini, Choral Director, Composer, Music Journalist
This article was first published the article on the blog DIRIGO (at www.dirigo.cloud) of the Italian Choral Directors Association.
It is not at all easy to talk about Armenia and Armenians. As with all peoples pummelled by history, one always swings between a certain reverential awe, with the risk of falling into the easily rhetorical, and compassion. Furthermore, it is no mean undertaking to attempt to understand a people and its past in the space of a week's visit, and what comes out is always a mixture of expectations, feelings, and a tourist's eye that can never be separated from the history still so freshly felt. When you are squeezed between such historically powerful neighbours (Armenia is encompassed by Turkey, Iran,  and Azerbaijan,and has been engaged in a conflict with the latter which has dragged on for over twenty years), you don't have much of a choice: either you succumb, or you develop a dignity that allows you to maintain a balance, albeit precarious, between events greater than yourself. The Armenians have repeatedly been on the verge of succumbing, that is, of being entirely wiped off of the global map. The result of enduring such threat – of surviving it – is that everything becomes identity, everything is meaning, and everything is a testimony to your existence andyour history. That said, for those of us who practice choral music, there is a positive story to tell!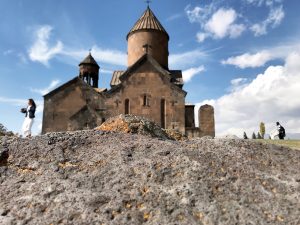 At first glance, Yerevan does not appear to be a city where choral music can occupy an important place in the national culture. But those who, know The Armenian Little Singers, as I do, will understand that this is not the case. Chaotic yet fascinating, rich in history and emotion like few others, the cradle of Christian civilisation, Yerevan, reveals some remarkable choral gems on closer inspection. The first: I have often wondered what impetus, what love could motivate its director, Tigran Hekekyan, to devote a good part of his life to this incredible choir. From my privileged point of observation (I spent a few days elbow to elbow with him) I can say that what he does is not far from self-sacrifice. Tigran can handle two phone calls at once, each ear having its own device. While doing so, he can also answer my questions or drive (even in the dust cloud tailing an ambulance) in the hectic traffic of the capital. Secondly, his choir: The Armenian Little Singers are more than a choral outfit, they are primarily a family that adores its teacher and director. Tigran is strict in conducting rehearsals, he wants absolute rhythmic precision and beauty of sound. He is then, however, able to address the girls (and the two boys) as the most loving of fathers addresses his child.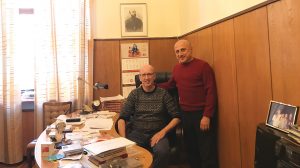 Such a fertile substratum is clearly conducive to the emergence and flourishing of excellent choral activity. One of such emergences is the International Choral Competition, now in its fourth year and dedicated to Father Komitas, born Soghomon Gevorki Soghomonyan, in Armenian Սողոմոն Գևորքի Սողոմոնյան) on 26 September 1869 (Gregorian calendar 8 October 1869) and died on 22 October 1935. He was a religious man, a composer, a musician and a musicologist, as well as being considered the father of modern Armenian music. The competition, which began before the pandemic, was part of the celebrations in honour of the 150th anniversary of his birth. In the first stage, 27 composers from all over the world took participated. The choral scores had to be had to be composed with The Armenian Little Singers in mind (i.e. equal voices, SSA or SSAA). The preliminary jury, composed for the occasion by Oscar Escalada (Argentina), Jennifer Tham (Singapore), Andrea Angelini (Italy), Damijan Močnik (Slovenia), Arthur Aharonian (France), Vahram Sargsyan (Canada), Davit Haladjian (Switzerland) and Tigran Hekekyan (Armenia), selected three pieces for the final stage which would take place almost two years later, due to covid-19 restrictions. With great determination, the final stage was eventually reached on 18 October 2021. During this performance, held during a superb concert, The Armenian Little Singers performed the three final pieces in front of the jury once again including myself, as well as David Haladjian (Switzerland), Vagharshak Zakaryan, Ruben Asatryan, Yervand Yerkanyan, Grigor Danielyan, David Zakaryan and Tigran Hekekyan, all from Armenia. In the end, the following results were unanimously decided: first prize to Sevan Gharibyan (Armenia) for the song 'Nazan-Nabiko', second prize to Sarah Shoham (Israel) for the song 'Waiting at the Window' and third prize to Mel McIntyre (England) for the song 'A Railway Carriage'.
One cannot fully understand this country without paying homage to Tsitsernakaberd, the Armenian Genocide memorial. And this is where we went the next day: myself, with perhaps a more historical approach, and Tigran with pain in his soul. It is a huge and impressive building inside which you can lay flowers around a fire that burns continuously. Next to it you can see two pillars, one symbolising Western Armenia (used to refer to an area currently in Turkish territory) and Eastern Armenia. On the night of 24 April 1915, the horrendous and systematic extermination of the Armenian people in the territories of the Ottoman Empire began. In just one month, more than a thousand intellectuals, including journalists, writers, poets and even parliamentary delegates were deported to the interior of Anatolia and massacred along the way. In the death marches, hundreds of thousands died of starvation, disease or exhaustion. Ultimately, about one and a half million Christian Armenians were massacred. The visit was very moving and, as far as I am concerned, was the real turning point in my understanding the determination in which drives the Armenian people in everything they do, including choral music. Outside, on the large esplanade from which I looked northwards, towards the summit of Mount Ararat, a strong wind seemed to be impregnated with harmonious sounds. Tigran then explained to me that a little further on is the Garden of the Righteous, and it dawned on me with full clarity that beautiful people always sing from the heart.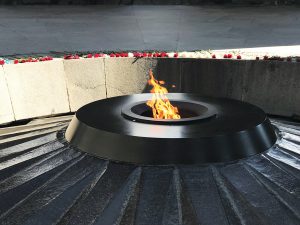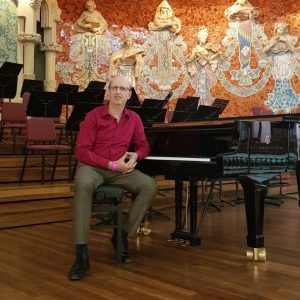 Born in Bologna, Andrea Angelini studied piano at the Conservatories of Rimini and Ferrara, where he graduated with distinction. He later obtained a master's degree in Choral Music and Choir Direction at the Conservatory of Music in Cesena. He studied Renaissance choral music in England and in Rome. He is the artistic director of the professional group Musica Ficta Vocal Ensemble. For many years, Andrea Angelini conducted concerts with the choir Carla Amori, in Italy and abroad. He has also conducted, as guest conductor, many important choral groups. He has been a jury member in numerous international choir competitions in Italy, Europe and Asia. He often conducts choral music seminars in Italy and abroad. (Hungary, Malaysia, Russia, China, Moldova, Romania, Croatia, Indonesia). Mr. Angelini is also the artistic director of the Rimini International Choral Competition, Claudio Monteverdi Choral Competition, Festival and Choral Competition Queen of the Adriatic Sea and Liviu Borlan Choral Festival. He was the editorial director of the International Choral Bulletin (ICB), the magazine of the IFCM (International Federation for Choral Music) and is now the editorial director of Dirigo, the magazine of the ANDCI. He is currently President of AERCO, the Regional Association of Choirs of Emilia-Romagna. Email: thechoralconductor@gmail.com
Edited by Sam Hemsworth, UK