A View from Chicago
American Choral Directors Association 2011 National Conference
By Dr. Tim Sharp, Executive Director, ACDA
One of the strongest affirmations of one of our American Choral Directors Association strategic imperatives came March 9-12, 2011, at ACDA's Biennial National Conference in Chicago, Illinois (USA), as we witnessed collaboration in action. The overwhelming moments of inspiration and invigoration provided by this significant event in the life of ACDA were due, in large part, to our work in the area of creative collaboration with other choral arts organizations and choral artists.
The thrilling performances we heard of Felix Mendelssohn Bartholdy's Elias, Op. 70 (Elijah)by the Grammy Award Winning Chicago Symphony Chorus and Orchestra, resulted from two years of creative collaboration with the administration of the Chicago Symphony Orchestra, which included artistic collaboration as well as administrative negotiation with the Chicago Symphony organization and Chicago's Orchestra Hall. Maestro Helmuth Rilling, fresh upon receiving the news that he had been named recipient of this year's Herbert von Karajan Musikpreis, conducted the performance. Soloists included Alexandra Coku, soprano, Birgit Remmert, mezzo-soprano, James Taylor, tenor, Markus Eiche, baritone, and Kenny Lumb, boy soprano. ACDA sponsored performances took place on March 10 and March 12 for Conference attendees, and a March 11 performance was offered to the general public.
The invigorating performances we heard by our various international choirs were brought about by our experiences through the World Choral Symposium and our network of relationships throughout the International Federation for Choral Music. Our very special international choral guests included Kamer (Latvia), musica intima (Canada), Taipei Philharmonic Chamber Choir (Taiwan), Cantus (Norway), and the Hua Zhong Normal University CCNU Tian Kong Choir (China).
Choirs from the United States invited to perform at this year's ACDA National Conference included Chanticleer (California), the Grand Rapids Symphony Junior Youth Chorus (Michigan), the Highland Park United Methodist Church Chancel Choir (Texas), the Penn State University Essence of Joy (Pennsylvania), Sursum Corda (Alabama), Centenary College Chorale (Louisiana), A Slice of Jazz (Iowa), American River College Vocal Jazz Ensemble (California), Central Washington University "Vocal Jazz I" (Washington), Eleventh Hour (Ohio), Pacific Standard Time (California), Gold Company (Michigan), Anima (Illinois), Luther College Norsemen (Iowa), Montgomery HS Chorale Women (Texas), Millikin University Choir (Illinois), Bella Voce Young Women's Choir (Minnesota), Murrieta Valley HS Chamber Singers (California), University of St. Thomas Chamber Singers (Minnesota), Concordia Singers (Pennsylvania), North Central HS "The Counterpoints" (Indiana), Vox Musica (California), The Esoterics (Washington), Bak MS Girls Chorus (Florida), Rex Putnam HS A Cappella Choir (Oregon), Riverside City College Chamber Singers (California), Emory University Concert Choir (Georgia), Brethren (Virginia), Fountain Valley HS "Troubadours" (California), Calvin College Alumni Choir (Michigan), Minnesota Choral Artists "The Singers" (Minnesota), Schofield MS Madrigal Singers (Nevada), Douglas Anderson School of the Arts Chorale Women (Florida), Kantorei (Colorado), Young People's Chorus of NYC (New York), University of Kentucky Men's Chorus (Kentucky), Young New Yorkers' Chorus (New York), Lawrence University Women's Choir (Wisconsin), and the Brigham Young University Singers (Utah). ACDA also sponsors National Honor Choirs consisting of auditioned singers from across the country. This year, Honor Choirs included Children's National Honor Choir, Henry Leck, conductor; Middle School National Honor Choir, Rollo Dillworth, conductor; Women's National Honor Choir, Lynne Gackle, conductor; and a Men's National Honor Choir, Peter Bagley, conductor.
It was an honor for the American Choral Directors Association to host the Executive Committee of the International Federation for Choral Music (IFCM) as the site for their meeting leading up to this summer's World Choral Symposium in Argentina. ACDA was pleased to welcome choral conductors and representatives from over twenty countries to our signature National Conference event. The opportunity for world networking and the exchange of ideas was enhanced by this robust international presence, and everyone would agree that we were all richer due to these guests honoring us by their presence in Chicago.
The stimulating educational Interest Sessions and other performances were elevated due to ACDA's collaboration with the Spertus Institute of Jewish Studies in Chicago, Chicago's Center for Black Music Research, the National Association of Teachers of Singing (NATS), the Margaret Hillis Collection in the Rosenthal Archives of the Chicago Symphony Orchestra, Anshe Emet Synagogue, Rockefeller Memorial Chapel at the University of Chicago, VanderCook University, DePaul University, Roosevelt University, and First United Methodist Church. As a result of their cooperation and collaboration, Chicago became much more than simply a vehicle for us to do our business and hold our performances; the artistic richness of Chicago contributed to our learning and artistic understanding due to our mutual investments made in art and education. Everyone left Chicago realizing once again that Chicago is an abundantly rich and stimulating artistic environment. And, as an added bonus, we happened to have our Conference during the week of Chicago's annual St. Patrick's Day Parade, an event highlighted by the City turning the Chicago River the color green in celebration of the day.
As ACDA continues to investigate the use of pedagogical technology, the following sessions pushed us forward: It's a Good Thing! Embracing Technology in the Choral Classroom (Marie Palmer, presenter); Implementing a SMART Choral Rehearsal: Enhancing Instruction Using SMART Technology (Ryan Fisher, presenter); The ACDA International Archives for Choral Music: A Dynamic Choral Research Resource (Marvin Latimer and Christina Prucha, presenters); and, Hear Ye: Announcing a National Symposium on American Choral Music Washington, D.C., 2012 (John Silantien, presenter). To assist in classroom and rehearsal room pedagogy, following Interest Sessions were presented: Jazz Styles and Improvisation for Choirs! (Russell Robinson, presenter); Breaking the Code: Small Ensemble Rehearsal Techniques for Choirs of All Sizes (Simon Carrington, presenter); Transforming Conducting: Conducting for Transformation (Weston Noble and Geoffrey Boers, presenters); Beyond Singing: Blueprint for the Exceptional Choral Program (Stan McGill, presenter); Boys' Changing
Voice: Tips and Techniques (Dan Davison, presenter); Teaching Through Repertoire: A Choral Conductor's Guide (Heather J. Buchanan and Matthew W. Mehaffey, presenters); Conducting Technique, Breath and Center as Rehearsal Technique (James Jordan, presenter); Nutrition for the Voice and Soul (Timothy Seelig, presenter); Revitalizing Middle School Choral Programs (Judy Bowers, presenter); Reconsidering Too Old To Sing: Can Singing Skills Be Revived? (Michael Kemp, presenter); Singing with Intention: Bringing Vitality and Beauty to Choral Tone (Sandra Snow, presenter); Comprehensive Choral Musicianship (David Conte, presenter); and from the National Association of Teachers of Singing, Choral Directors are from Mars and Voice Teachers are from Venus: Sing from the Diaphragm and other Vocal Misstructions (Allen Henderson, Sharon Hansen, Brenda Smith, Donald Simonson, and Scott McCoy, presenters). Excerpts and full videos from a selected group of these pedagogical Interest Sessions will be available in the near future through ACDA's website, www.acda.org, and through various Communities on ACDA's ChoralNet www.choralnet.org
For the ever-expanding understanding of multiple cultures and world choral literature, the ACDA Chicago National Conference presented the following sessions: Explore the
Chinese Cultural Treasures Through Choral Music: Chinese Choral Repertoire and Interpretation (Karl Chang and Jenny Chiang, presenters); Expanding the Repertoire: Uncovering a Neglected American Music Genre Black Composers Writing for Women's Voices (Mary Hopper, presenter); The Interpretation of Latin American Music (Oscar Escalada, presenter); and Resources for Choral Directors at the Center for Black Music Research (Sharon Gratto and Suzanne Flandreau, presenters).
Our choral music industry partners collaborated in an unprecedented way, as choral reading sessions, resource centers, technological innovations, and additional choral performances were made possible by their expertise, generosity, and dedication to our shared mission. Those of us that arrived early were treated to Eric Whitacre's choral opera Paradise Lost: Shadows and Wings, made possible in a conference prelude program by industry collaboration. This performance took place in one of our primary performance venues, the Auditorium Theater. Our collaboration with publishers resulted not only in our ACDA sponsored choral reading sessions, but also for the first time in collaboration, publisher sponsored reading sessions.
As a result of ACDA's ongoing innovations in the area of technology and paperless "green" events, for the first time all of the choral reading sessions were available online through the efforts of both ACDA's Repertoire and Standards Committee, and our collaboration with industry partner J. W. Pepper. International readers of this column can enjoy these reading sessions and this effort by viewing the material at http://acda.jwpepper.com/Security/Login.aspx  You must create a user's account in order to access the material, but this is a free registration process.
Due to ACDA's collaboration with Americans for the Arts, our first night's concert session began with a stirring presentation by Robert Lynch, challenging those of us living in the United States to continue our hard work in the area of arts advocacy. Lynch encouraged ACDA to continue this partnership through the Arts Action Fund and other Americans for the Arts initiatives. ACDA is a proud National Cosponsor of the Americans for the Arts Advocacy Day activities in Washington, DC. You can read more about Americans for the Arts and the Arts Advocacy Day activities at  http://www.artsusa.org/
The ongoing internationalization of ACDA's program offerings has been enhanced by collaboration with our travel and festival members. For the first time in its 52 year history, ACDA has created a National Youth Honor Choir from the Honor Choir efforts displayed at the National and Divisional Conferences. This initiative will allow ACDA's efforts with young singers to live beyond a Conference through the first ACDA National Youth Choir tour to London in 2012. In addition, the World Choir Games will take place for the first time in a U.S.A. city due to ACDA's creative collaboration with the city of Cincinnati (Ohio), and ACDA's partnership with INTERKULTUR. It is invigorating to witness the energy created with our young choral singers as these programs take shape and continue to move us beyond our national borders.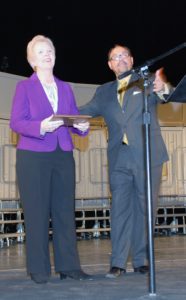 Collaboration is the key to making relationships align toward the accomplishment of a shared vision. Motivational forces drive everything we do, and to achieve a vision, these motivational forces must overlap. Businesses are motivated by profit; educational institutions, at their core, are motivated by the search for truth; faith communities are motivated by a core belief; sports teams are motivated by a scoreboard.  Professional associations such as the American Choral Directors Association are motivated by a mission, and the mission for ACDA is to foster and promote a finer performance of a finer quality of choral music. We witnessed our mission taking full shape at our recent National ACDA Conference in Chicago, and we look forward to our next National Conference, March 13-16, 2013, in Dallas, Texas (USA). In 2012, the American Choral Directors Association offers seven regional Conferences throughout the United States, and visitors from around the world are invited to these Divisional Conferences:
Madison, Wisconsin                         February 8-11, 2012
Providence, Rhode Island               February 15-18, 2012
Winston-Salem, North Carolina    February 29-March 3, 2012
Dallas, Texas                                      February 29-March 3, 2012
Reno, Nevada                                     February 29-March 3, 2012
Ft. Wayne, Indiana                           March 7-10, 2012
Seattle, Washington                         March 15-18, 2012