The Bloemfontein International Choral Centre (BICC)
Annemarie van der Walt
IFCM Board Member
Bloemfontein, the city of roses, in the centre of South Africa!
The town with the vision to establish a centre to educate all choral conductors and choral singers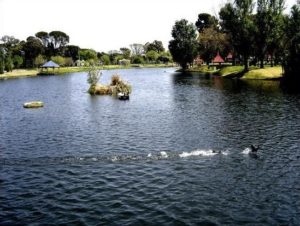 The Bloemfontein International Choral Centre (BICC) was established on 29 May 2009
Vision 
Advancement and development of choral music.
Mission
To serve as an International Choral Centre for Choral Music for practitioners, conductors, singers and composers in South Africa and to provide them with opportunities to learn,  do research and develop as leaders in their choral fields.
To promote the composition and publication of choral music whenever and wherever the opportunity might arise.
To bring professionals and volunteers together to learn, collaborate and debate in a friendly, supportive environment that promotes networking, information exchange, and shared goals.
To facilitate interaction, exchange and collaboration between choral practitioners across the different media and with artists in other disciplines and to liaise and cooperate with local, national and international bodies involved in the funding, promotion, distribution and development of music.
Structure
President (Annemarie van der Walt)
Vice-President (Lance Phillip)
Administrative Secretary (Mirriam Ramafikeng)
Treasurer (Johan van der Sandt)
Additional Members: Ingrid Lipale, Theo Dzorkpey, Simon Aiken, Jeanette Masia.  (Extra members may be co-opted for specific projects.)
Goals
To establish an extensive communication network-system between all choral practitioners in and around Bloemfontein, as well as on a national and an international level. 
Collaboration with all:
→ Bloemfontein Choral institutions (UOFS, RSCM Free State, Musicon),
→ National Choral Institutions and Choral Associations (ATKV, SAKOV, CHORISA, Dept. of Arts & Culture) and Choral Associations,
→ International Choral Institutions and Choral Associations (IFCM, ACDA, Interkultur)
To establish a national and international register of choral practitioners.
To present workshops for the education and development of the skills of all choral practitioners.
To present a quarterly newsletter to subscribers.  Through subscribing to the quarterly newsletter of BICC a person becomes a member.
To facilitate visits of choirs from South Africa and from abroad to Bloemfontein and to arrange intercultural exchanges and concerts.
To assist communities in creating audiences for choral events across the cultural spectrum.  
Website – a website will be developed
The BICC shall operate on a non-profit basis and the financial resources of the BICC shall be derived from proceeds from projects, grants by international and national organizations, governments or public bodies, legacies, contributions and/or grants from private bodies or persons.
Planned projects
International Project for the Development of Choral Music (IPDCM)
Presented by the Bloemfontein International Choral Centre (BICC)
In collaboration with the Croatian Choral Directors Association The Vocal Academy Croatia.
Musicon 1 – 4 October 2009.
Choral Singing is one of the most actively pursued cultural activities in our country but not many choir conductors have the opportunity to learn more about conducting.
This course is the first of three accredited courses for choral conductors, with a test at the end of the three days and a certificate.  The subjects are taught by professionals in the field in such a way as to be understandable by beginners in choral conducting.   
Subjects:  Voice warm-ups, vocal physiology, expressive analysis and vocal stylistics in choral music, vocal techniques, emotional voice posture, history of choral music and musical style, music theory, and conducting techniques. These subjects enable choral conductors to lift the standard of their choirs and thus contribute to social and economic progress.  
The participants will also have the opportunity to sing and conduct the choir-in-residence.
Parts 2 and 3 of this choral course will follow in 2010.
Clinicians:
Branko Stark (Zagreb, Croatia)
Rudolf de Beer (Stellenbosch)
Annemarie van der Walt (Bloemfontein)
Theo Dzorkpey (Bloemfontein)
Future projects and events:
2009
Assistance and collaboration with the CHORISA workshop on 21 November in Bloemfontein.  (Clinicians Richard Cock and Reinette Bouwer)
Celebration of the IFCM World Day of Choral Singing on 13 December 2009 by hosting and organizing a Choir Festival in Bloemfontein
2010
IPDCM 2:  5 to 8 January 2010
Choir festival and workshop with Kungsholmen Gymnasium Kor, Stockholm, under the direction of Bengt Ollen, 27 and 28 March 2010
IHLOMBE – Festival concert and Workshop, 3 August 2010.
IPDCM 3: 30 September to 3 October 2010.