By Ki Adams, IFCM Vice-President, President of the World Youth Choir Foundation
2018 Session – China
Presenter: Inner Mongolia Bureau of National Art Troupes
Conductors: Helene Stureborg (Sweden) and Jonathan Velasco (Philippines)
Repertoire: Nordic and European choir music from the 20th century and Asian folk and popular music
Session Manager: Inês Moreira
The 2018 session took place from 4 July to 18 July 2018 with the rehearsal session in Hohhot, Inner Mongolia, and a concert tour in Inner Mongolia (5 concerts and 2 performances) and Beijing (2 concerts, 1 performance, and open workshops).
The 2018 WYC was composed of 68 singers from 36 countries. Approximately 200 applications were received from singers representing 45 nationalities.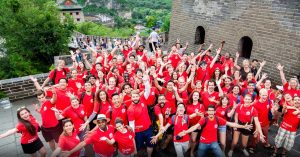 2019 Session – France (30th anniversary of World Youth Choir)
Presenter: Plate-forme interregionale, ARPA – Occitanie, Centre culturel de Sylvanès, and Jeunesses Musicales France
Conductor: Josep Vila i Casañas (Spain)
Repertoire: Classic literature, highlights of WYC history, and folk song arrangements from the five continents
Session Manager: Inês Moreira
The 2019 session took place from 18 July to 4 August 2019 with the rehearsal session in Saint Affrique, France, and a concert tour in the South of France and Lisbon, Portugal. The tour included concerts in Gaillac, Sylvanès (including participation in the International Festival of Sacred Music/World Music at Sylvanès Abbey), and Lisbon/Cascais (World Choral EXPO), and concluded at the Choralies festival in Vaison-la-Romaine. Anniversary events (WYC concert and reception) were planned during the World Choral EXPO as well as a reception at the Choralies festival.
The 2019 WYC was composed of 60 singers from 30 countries. Approximately 250 applications were received.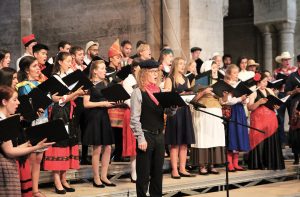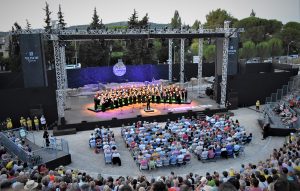 2020 Session – Germany, the Netherlands, Italy, Austria, Russia


(cancelled due to Covid-19)
Presenter: German Music Council as patron of the Federal Youth Orchestra of Germany (BJO). The Beethoven Jubilee Association (BTHVN2020) was a partner and one of the funding bodies. Additional funding came from the German National Ministry of Culture and Deutsche Welle (media partner). The 2020 World Youth Choir was to have been part of the Beethoven Anniversary Year festivities celebrating the 250th anniversary of the composer's birth.
Conductors: Tan Dun (USA) and Jörn Hinnerk Andresen (Germany)
Repertoire: Symphony No. 9 (Beethoven) and Nine (Tan Dun), commissioned by the National Youth Orchestra of Germany
Soloists – former WYC singers: Iris Hendrickx, soprano (WYC 2002, 2003, 2005); Jo-Pei Weng, mezzo-soprano (WYC 1997-2003); Xavier Moreno, tenor (WYC 1997, 1998); and Johannes Schendel, bass (WYC 1995)
Session Manager: Inês Moreira
The 2020 session was to have taken place from 30 July to 20 August 2020 with the rehearsal session in Bonn, Germany, followed by a tour with concerts in Germany, the Netherlands, Austria, Italy, and Russia.
Having received and reviewed over 200 applications, the jury selected 89 singers from 42 countries.
The World Youth Choir Foundation would like to acknowledge all our Board members, artistic advisors, partners, recruiters, alumni, and audition supervisors who assisted in the audition process for the 2018, 2019, and 2020 WYC sessions.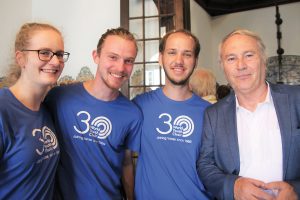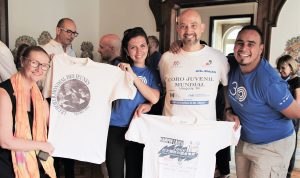 https://www.worldyouthchoir.org
Edited by Kelly Harrison, USA