Yoshihiro Egawa, Japan, and Jennifer Tham, Singapore, Coordinators, IFCM Asia Pacific Choral Council – Asia Pacific Youth Choir
The Asia Pacific Youth Choir (APYC) was established in February 2011 as the sounding symbol for respect, love, and joy among the peoples of the culturally diverse Asia Pacific region. This remarkable intercultural project of the IFCM Asia Pacific Choral Council enriches our choral community by sharing the musical knowledge and experience of conductors Saeko Hasegawa (Japan), Jonathan Velasco (Philippines), Hak-Won Yoon (South Korea), Lingfen Wu (China), Chifuru Matsubara (Japan),  Jennifer Tham (Singapore), and Stephen Leek (Australia).
The APYC met annually from 2012 to 2015, in places as far apart as Macau and Dallas, where they performed to promote the 10th World Symposium on Choral Music which was held in Seoul, South Korea, in 2014. After a three-year hiatus, the APYC gathered once again, this time in Kaili, China, to perform as part of the China Qiandongnan International Folk Song Choral Festival and the IFCM World Voices Conference. This was a special session as it brought together APYC alumni, touring five villages in the Qiandongnan Miao and Dong Autonomous Prefecture, with a programme of Asian and international works conducted by Beverly Shangkuan-Cheng (Philippines) and Jun Wang (China).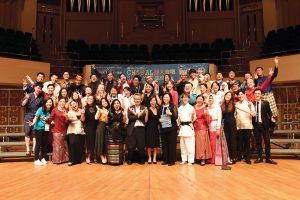 In 2019, the APYC returned to Macau, where they made their debut in 2011. After performing at the International Youth Music Festival 2019 in Macau, they continued to Hong Kong, where they celebrated the 50th anniversary of the Hong Kong Children's Choir (HKCC) with the world premiere of A Parting Wish, from Three Tang Chinese Poems by Donald Man-Ching Yu (Hong Kong). The APYC also doubled as the demonstration choir for the final stage of the Hong Kong Choral Conducting Competition, held as part of the HKCC's birthday events. The choir had 42 singers for this extraordinary occasion, selected from 98 applications (the largest so far), conducted by Vivian Ip (Hong Kong).
The APYC's 2020 session in Kuala Lumpur, Malaysia, has been put on "pause" for now, as choirs and choral happenings around the world have been silenced by the coronavirus pandemic. We wait, patiently, knowing that the APYC will sing again, in November 2021 in Kuala Lumpur, Malaysia, where the choir will be conducted by Chi Hoe Mak and Tracy Wong (Malaysia).
Save the date.
https://jcanet.or.jp/ap-youth/
Edited by Lydia de Montfort, UK