By Karen Grylls, Choral Conductor and Teacher
Alfred Hill (1869-1960), born in Melbourne and educated at the Leipzig Conservatory of Music, was one of the most influential musicians in New Zealand and Australia in the late nineteenth and early twentieth centuries. His fascination with Māori waiata resulted in numerous compositions, which attracted much attention and critical acclaim: these were Waiata Poi, the cantata Hinemoa (1896) and his opera Tapu (1902-3). From the start of the twentieth century, musicians who arrived in New Zealand brought with them the choral aesthetic and finest repertoire from the English cathedral tradition. These musician immigrants worked tirelessly to establish conservatories, conduct choirs and orchestras, and compose new music.
In turn, local musicians went to Europe and England to train as composers. Their teachers[1] encouraged them to establish and to explore their own national identities through their compositions. Douglas Lilburn (1915-2011)[2] studied with Ralph Vaughan Williams; in his talk given at the first Cambridge Summer School in January 1946, he was one of the first to lament the lack of a tradition and to challenge New Zealand composers in this regard. Several decades later, in a speech given in 1974 at the ISME Conference in Perth, Peter Godfrey (1922-)[3] took the view that New Zealand was indeed a country without a choral tradition. This comment came at the same time that Douglas Mews (1918-1993) composed The Lovesong of Rangipouri[4] in which a traditional Waiata Patupaiarehe, first recorded in Makara near Wellington in 1963, was used as compositional material for the piece. Godfrey believed, at that time, that the two traditions would remain separate. Unlike Lilburn and Godfrey, Jenny McLeod (1944-)[5] embraced that fact that New Zealand did not have to bear the burden of the European traditions; rather, the burden came in the form of expectations – composers would need to pursue cultural development in their own societies. In the preface to Iwi Kotahi Tatou (We are One People), commissioned for the 1993 triennial Festival Sing Aotearoa, Jenny writes: "My hope is that He Iwi Kotahi Tatou might mark a sort of watershed in Māori /Pākehā relations." In nearly 50 years, from Lilburn's first exhortation to composers, the distance travelled has been considerable.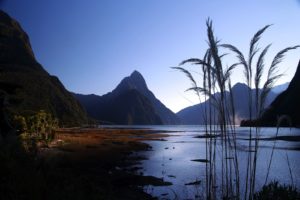 So what inspires New Zealand composers to write for choirs?  It is, in fact, the choirs themselves and the commissions. In response to these commissions, composers have chosen sacred texts, texts by New Zealand poets, and texts that were inspired by the landscape of Aotearoa, New Zealand, according to the purpose and ability of the choir. Griffiths' Beata Virgo[6] was written for a sixty-voice choir and a cathedral acoustic (Holy Trinity Cathedral, Auckland); Baldwin's Evening Service in A for a small chamber choir and St. Paul's Cathedral, London; and Jack Body's Carol to St. Stephen for a virtuosic a cappella choir. New Zealand's sesquicentennial in 1990 solicited works in honour of a young country. Marshall's To the Horizon[7] set a variety of texts by New Zealand poets: Ian Wedde, ARD Fairburn, Denis Glover, Hone Tuwhare, MK Joseph, RAK Mason, and Katherine Mansfield. Griffiths' Lie Deep my Love used texts by Charles Brasch. Excellent school choirs have commissioned Holmes's Estuary and Ker's Close-up of a Daisy, examples of a considerable repertoire for SSAA choirs. Oswin's Sanctus is a fine example.
Inspiration drawn from the land inspired Eve De Castro-Robinson's Chaos of Delight, a soundscape of birds and cicadas for women's choir, as well as Sarah McCallum's The Moon's Glow and Helen Fisher's Pounamu, [8] which depicts the sparkling waters of Tasman Bay in the South Island of New Zealand.  Likewise, Gillian Whitehead's work Taiohi Taiao[9] is drawn from the inspiration of the springs of water from the earth which represent the health, wellbeing and future of our youth. In Gillian's words, "it is a piece without any corners, like the water which flows from the spring."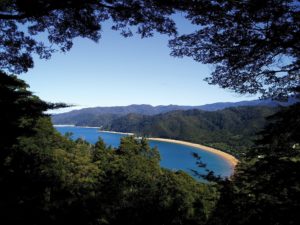 Composers have arranged folk songs from Polynesian traditions. Marshall's Minoi, minoi and Rapana's Si Manu Laititi and Waiata (songs) have been gifted to choirs, as have Ngapo Wehi's Wairua Tapu, I Te Timatanga, and Hinemoa.[10] Most recently, choral works have been commissioned with notated parts for Taonga Pūoro[11] (the Singing Treasures), traditional Māori musical instruments, and choir. Hamilton's Karakia of the Stars and Farr's Harakeke were premiered at the 9th World Choral Symposium in Puerto Madryn by Voices New Zealand Chamber Choir.
The compositions speak for themselves and represent the journey of the indigenous musical traditions and the traditions of the immigrants who call New Zealand home. They have a unique voice and place in world choral music. (Contact the Centre for New Zealand Music for information about the repertoire listed) 
---
[1] These teachers included such luminaries as Ralph Vaughan Williams, Herbert Howells, Olivier Messiaen, Luciano Berio, Karlheinz Stockhausen and Alexander Goehr.
[2] "In Search of a Tradition" in The Landscape of a New Zealand Composer, Radio NZ, CDe#: NZ100-8
[3] Choral Music in New Zealand: The Problem of a Country Without a Tradition, Unpublished Speech, 1975. Peter came from King's College, Cambridge. His work was hugely influential in establishing high-quality choral singing in NZ.
[4] Winds that Whisper MMT 2016,1999, NZ Youth Choir, Karen Grylls, Robert Wiremu, baritone.
[5] Hardie, Richard L. Jenny McLeod: The Emergence of a New Zealand Voice Thesis, Master of Music, Rice University, 1994
[6] New Zealand National Youth Choir: Te Roopu Rangatahi o Aotearoa ODE MANU 1412 http://sounz.org.nz/manifestations/show/6916
[7] A Sound Came From Heaven ATOLL ACD407, The Graduate Choir, Terence Maskell
[8] Spirit of the Land MMT2065, Voices New Zealand Chamber Choir, Karen Grylls http://www.naxosmusiclibrary.com/preview/catalogueinfo.asp?catID=MMT2065&path=1
[9] Ibid.
[10] Winds that Whisper MMT 2016,1999, NZ Youth Choir, Karen Grylls,
[11] Fisher's Pounamu and Whitehead's Taiohi Taiao use kouauau, but there is not a specifically notated instrumental part.
Examples of New Zealand Choral & Choral/Instrumental (Orchestral)* Compositions

Baldwin, Andrew (1986-)

Evening Service in A (2011)

Bell, Kate (1957-)

Te Mea Nui (2010)

Body, Jack (1944-)

Carol to St. Stephen (1975), Five Lullabies (1989)

Buchanan, Dorothy (1945-)

The Lord's My Shepherd (1978), Five Vignettes of Women (1987)

Childs, David (1969-)

Salve Regina (1998), O Magnum Mysterium (1997)

De Castro-Robinson, Eve (1956-)

Chaos of Delight III (1998)

Elmsly, John (1952-)

Songs from "The Treehouse" (1992)

Ete, Igelese (1968-)

Malaga* (2002)

Farquhar, David (1928-2007)

The Islands (1967), Waiata Māori (1985)

Farr, Gareth (1968-)

Tirohia Atu Nei (2000), Harakeke (2011)

Fisher, Helen (1942-)

Pounamu (1989 rev. 1997), Tete Kura (2000)

Griffiths, David (1950)

Beata Virgo (1974), Lie Deep My Love (1996)

Griffiths, Vernon (1894-1985)

Peace and War* (1952) Ode of Thanksgiving* (1962)

Hamilton, David (1955-)

Missa Pacifica (2005), Rakiura (1993), Lux Aeterna (1979)

The Moon is Silently Singing (1985), Karakia of the Stars (2011)

Holmes, Leonie (1962-)

Hodie Christus Natus Est (1989), The Estuary (1993), Through

Coiled Stillness (2011)

Ker, Dorothy (1965-)

Close-up of a Daisy (1992)

Lilburn, Douglas (1915-2001)

Prodigal Country *(1939)

Marshall, Christopher (1956-)

Tangi (1999), To The Horizon: Images of New Zealand

(1990, rev.1997), Minoi, Minoi (1984)

Mews, Douglas (1918-1993)

The May Magnificat (1977) The Lovesong of Rangipouri (1974),

Ghosts, Fire, Water (1972), Pokarekare ana (arr.) (1972)

McLeod, Jenny (1941-)

Childhood (1981), He Iwi Kotahi Tatou (1993), The Poet* (2007)

Oswin, Richard (1957-)

Sanctus (2002)

Psathas, John (1966-)

Baw my Barne (1995)

Puanaki, Richard (1934-)

Ka Waiata Ki a Maria (1988)

Rapana, Steven (1984-)

Samoa Silasila (2005), Si manu laititi (2011)

Rimmer, John (1939-)

Visions 1*(1975), Seven Summer Haiku* (1970)

Ritchie, Anthony (1960-)

As Long as Time (1991), From the Southern Marches *(1997),

Ahau* (2000), Widow's Songs (2004), Carving (2009), Olinda (2009)

Ritchie, John (1921-)

Lord, When the Sense of Thy Sweet Grace (1957)

Wehi, Ngapo (1935-)

Hinemoa, Tete Kura, (2000), Wairua Tapu

Wehi, Tuirina & Tuwhiti Happy

Aio (2010)

Whitehead, Gillian (1941-)

Five Songs of Hildegard von Bingen (1976),

Low Tide Aramoana* (1982), Taiohi taiao (2004)
SOUNZ
Centre for New Zealand Music
PO Box 27347, Marion Square, Wellington 6141
       Phone: +64 4 801 8602, Fax: +64 4 801 8604

       Email: info@sounz.org.nz
 Website: www.sounz.org.nz 
http://www.arts.auckland.ac.nz/research/index.cfm?S=R_ARCAMPM
Archive of Māori and Pacific Music, University of Auckland, New Zealand
http://www.nzcf.org.nz/ New Zealand Choral Federation
http://www.choirsnz.co.nz New Zealand Youth Choir and Voices New Zealand Chamber Choir
Edited by Steve Lansford, USA