IFCM Press Release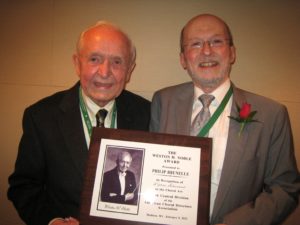 Philip Brunelle, founder and director of VocalEssence and a major figure in the American choral scene, has been named the 2012 recipient of the 'Weston H. Noble Lifetime Achievement Award' for his contributions to the musical life of the North Central division over the past several decades. He received the award during a ceremony on Thursday, February 9 at 8:30 p.m. at the Overture Center in Madison, during the division conference.
Born in Faribault, Minnesota in 1943, VocalEssence Artistic Director and Founder Philip Brunelle showed signs at an early age of the adventurous spirit that has driven his lifelong enthusiasm for all forms of choral, vocal, operatic, and symphonic music. At the age of six, he requested and received a vocal score of Handel's Messiah for Christmas. As a teenager Brunelle was already working as a professional church organist; by 19 he had become a fulltime member of the Minnesota Orchestra.
At the age of 25, Brunelle was appointed choirmaster-organist of Plymouth Congregational Church in Minneapolis. He immediately established the Plymouth Music Series, which has become today's choral music organization VocalEssence. Brunelle played piano on the very first episode of A Prairie Home Companion in 1974, forging a connection with Garrison Keillor that has resulted in many creative ventures over the years.
Brunelle has been invited to guest conduct choirs and orchestras across the United States, South America and Europe, including the Saint Paul Chamber Orchestra, New York Philharmonic, Berkshire Choral Festival, the BBC Singers, and the Seattle Symphony. He is called upon to adjudicate choral competitions all over the world, with recent visits to South Korea, China, Norway, and Hungary. Brunelle is currently a board member of Chorus America and the International Federation for Choral Music (IFCM), where he serves as Vice President. He was on the planning committee for the Ninth World Symposium on Choral Music, held in Argentina last August. He was a member of the Artistic Committee for the Eighth Symposium in 2008 and served as President of the Sixth Symposium, held in Minneapolis in 2002. Brunelle has been recognized for his commitment to choral music by Norway (Commander of the Royal Norwegian Order of Merit), the United Kingdom (Honorary Member of the Order of the British Empire), Hungary (Kodály Medal), and Sweden (Royal Order of the Polar Star). In 2003, Chorus America honored Brunelle with its highest award, the 'Michael Korn Founder's Award for Development of the Choral Art'.
Among Brunelle's many awards and designations are the following: a 'Local Legend Award' from General Mills and the United Negro College Fund; an 'American Composers Forum Champion of New Music'; a 'U.S. Bank Sally Ordway Irvine Award for Commitment', recognizing lifetime achievement, contribution, and leadership in culture and the arts; and the 'F. Melius Christiansen Lifetime Achievement Award', the American Choral Directors Association-Minnesota Chapter's highest honor. Brunelle holds honorary doctorates from St. Olaf College, Gustavus Adolphus College, St. John's University, and United Theological Seminary. On October 6, 2011 Brunelle was awarded the Doctor of Humane Letters, the highest award conferred by the University of Minnesota Board of Regents. The ceremony took place at the School of Music's Fall Convocation at Ted Mann Concert Hall. This honor recognizes individuals who have achieved acknowledged eminence in their field.
In those rare moments when he is not pursuing his passion for choral music, Brunelle may be found catching up on his next book club selection, running five miles a day, or enjoying gourmet cuisine. He is married to visual artist Carolyn Brunelle; they have three grown children and six grandchildren.