By Vladimir Opačić, World Youth Choir Project manager
Thank You All!
"… I've been in love with the World Youth Choir since 1989. Yes, since the last century! I could tell you how many wonderful people I met, and how many great conductors have worked with us… and… it would take hours! It is not just about singing, traveling and meeting people, it is a great opportunity to share everything you and they know, it is about giving and caring too! I still remember every moment spent in the World Youth Choir, but these are my memories. So, go, get yours! Audition now! Good luck…" Gardinovački Kiš Aniko, 1989 member – 1st World Youth Choir, representing Yugoslavia back then (now Serbia).
Dear ICB reader,
This was one of the many calls of our alumni members to their fellow singers all over the world to audition for the World Youth Choir session in Croatia in 2014. And guess what? They have followed the advice. The last four months of the year 2013 were something special for our office and our project. Months full of excitement, hard work, intense communication, advertising and exchange with candidates and recruitment partners all over the world. Once again our global recruitment machinery with more than a hundred of our devoted partners, associations, federations and individuals embraced hundreds of talented young singers in more than fifty world countries. Since September 2013 all, partners and candidates worked hard organizing national auditions or supervising direct applicants, guiding and preparing them through the process. It was a global school, indeed. In November and December 2013 more than three hundred singers in fifty countries "entered the World Youth Choir's global audition stage" for national selections. Auditions were closed on December 31st, 2013 with final numbers: 182 singers preselected/qualified for the international jury final selection in April 2014, from 43 countries. Such success was not only ours! Thanks to the devotion and hard work of the following institutions and individuals, these achievements would now be possible. Therefore, we take this opportunity to publicly thank all of them for recruiting for the World Youth Choir, season 2013/2014:
AUSTRALIA | ARGENTINA (AAMCANT – Lucrecia Escalada) | AUSTRIA (Jeunesses Musicales – Isabel Wielebnowski) | BELGIUM (Benoît Giaux, World Youth Choir alumnus; Sabine Conzen, World Youth Choir alumna) | BULGARIA (National Academy Of Music – Theodora Pavlovitch) | CANADA (Association of Canadian Choral Communities – Carolyn Neilson) | CHINA – Hong Kong (Hong Kong Treble Choirs' Association – Kwan Him CHEUNG | COLOMBIA (Universidad de los Andes/Andean University – Carolina Gamboa Hoyos and Maria Catalina Prieto | CROATIA (Jeunesses Musicales – Mira Surjak | CZECH REPUBLIC (Martin Mikes, World Youth Choir alumnus) | EGYPT (Khaled Tork, World Youth Choir member) | ESTONIA (Estonian Academy of Music and Theatre – Kai Kiiv) | FRANCE (Institut Français d'Art Choral-IFAC – Pierre Chépélov; Inaki Encina Oyon, World Youth Choir alumnus | GERMANY | GHANA (Winneba Youth Choir – Edusei Derkyi) | GUATEMALA (Proyecto CORODEMIA – Fernando Archila) | HUNGARY (Central Eastern European Centre of European Choral Association – Europa Cantat / in cooperation with Jeunesses Musicales Hungary) | INDONESIA (Bandung Choral Society – Roi Napitupulu) | IRELAND (Association of Irish Choirs – Dermot O'Callaghan) | ITALY (FENIARCO – Marco Fornasier) | JAPAN (Japan Choral Association – Yoshihiro Egawa) | KENYA (Ken Wakia, World Youth Choir alumnus) | LATVIA (Ilze Ārniece, World Youth Choir alumna) | MALAWI (Music Crossroads – Elizabeth Karonde) | MALAYSIA (Malaysian Choral Federation (MCF) in partnership with Young Choral Academy – Chi Hoe Mak) | NETHERLANDS (Frank Hermans, World Youth Choir alumnus) | PARAGUAY (Alba Alvarez, World Youth Choir alumna) | PERU (Javier Sunico Raborg, World Youth Choir alumnus) | POLAND| SERBIA (Aleksandar Švarc, World Youth Choir alumnus) | SINGAPORE | SLOVAK REPUBLIC (FUGA civil association – Oliver Saloň) | SLOVENIA (Jeunesses Musicales – Uroš Mijošek) | SOUTH AFRICA (University of Pretoria Youth Choir – Lhente Mari Pitout, conductor) | SPAIN (Federació Catalana d'Entitats Corals – Montserrat Cadevall; Euskal Herriko Abesbatzen Elkartea/Confederación de Coros del País Vasco – Carmen Mtz. Guerra) | SWEDEN (Victoria Liedbergius and Sofia Ågren, World Youth Choir alumni) | SWITZERLAND | TAIWAN (R.O.C.) (Taipei Philharmonic Foundation for Culture and Education – Fu-Hung Johnson Chuang) | TURKEY (Choral Culture Association – Burak Onur Erdem) | UNITED KINGDOM (Association of British Choral Directors – Peter Broadbent) | URUGUAY (Jeunesses Musicales – Maria Tania Siver and Enrique Conti) | UNITED STATES OF AMERICA (Steve Zegree, conductor and Shannon Romba, David Gailey, Derek Fawcett and Jamila Hla Shwe, World Youth Choir alumni) | VENEZUELA (Fundación Musical Simón Bolívar and Schola Cantorum de Caracas – Juan Gorrin).
INDIVIDUAL PARTNERS (Conductors, Voice and Music teachers): Dr. Desmond Earley | Dr. Jeffery E. Bell | Dr. Rachel Rensink-Hoff | Erzsi Marosszeky | Ewa Glowacka | Gabriele Weinfurter-Zwink | Gerard Yun | Helén Lundquist Dahlén | Helmut Simmer | Hugo Arenas | Irina Bogdanovich | Joanne Mouradjian | Joshua Suslak | Katherine DeVet | Luis Romero | Manuela Rovira | Mats Nilsson | Matthew Baker | Miss Jana Lambersek | Mrs. Dail Richie | Phil Robinson | Reuben Lai | Taylor Bone | William Alvarado |
Thank You All so Much for Your Tremendous Work!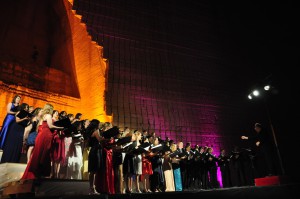 We also take this opportunity to officially thank our three patron organizations for helping us spread all information through their global networks as well as their marketing and communication teams, especially to Cristian Gheorghiu and Matt Clark at JMI office in Brussels for working hard on the audition advertisement and promotion. Thank you IFCM, ECA-EC and JMI.
On April 4th to 7th the international jury will meet for the final selection of singers who will "win the coupon" for joining us in Croatia this July. Members of the jury are:
Mr. Ko Matsushita, Japan, conductor of the 1st part of the summer program
Mr. Vlado Sunko, Croatia, conductor of the 2nd part of the summer program
Ms. Theodora Pavlovitch (IFCM) Bulgaria, Chair of the World Youth Choir Artistic Committee
Ms. Severine Delforge (ECA-EC) Belgium
Ms. Susanna Freden (JMI) Sweden
The results of the international selection will be announced on our website www.worldyouthchoir.org and our Facebook page www.facebook.com/worldyouthchoir not later than April 10th 2014.
However, we restlessly keep preparing the new audition round for the season 2014/2015 starting September 2014. So, if you know somebody who is a young and experienced singer ask him …
"Why Not the World Youth Choir?"
"… The World Youth Choir is HOME to every young human being, the opportunity to make music and friends with the most promising and wonderful persons and musicians around the world. Wherever you go, you can be sure to have a friend for life, to have a home. To make music at a professional level at an early stage in life is the most wonderful thing a musician can do. You will never forget this life-changing experience as long as you live!" Daniel Hagfeldt, Alumnus, Sweden, Student of Speech-Language Pathology
 Edited by Karen Bradberry, Australia