Dr. Maria Theresa Vizconde-Roldan
Heavenly voices in concert halls, moving music during masses, weekly rehearsals with choristers — these are the things that have changed in the choral scene for the past nine months. Things have been different than usual as musicians have now utilized digital technology to produce a choral performance — learning a piece individually, recording them to perfection, and taking a video in front of the camera, soon to be stitched together into  one production.
But amid this trying time of adjustment and solitude, where social interaction has shifted to the virtual scene, choral groups consisting of children and youth have stepped up and used their art to inspire, to express, and to connect—as music soars beyond boundaries and extends its wings to where harmony is needed most.
Last June 24, 2020, the Treble Association of the Philippines, Inc. (TCAP) successfully launched the Young Voices of the World through a virtual choral performance — with the theme Sing As One, music by Jude B. Roldan and lyrics by Ignatia Mariae Adeline, Charise Eryka Delson and Jude B. Roldan — in unity with children and youth choral artists from different countries as the world fights against the COVID-19 pandemic. This initiative, which was premiered on Youtube, featured 37 amazing choirs from 17 countries including our scholar choirs, the Young Voices of the Philippines and Kantabella. These choirs are from Asia, Africa, America, and Europe.
The TCAP, Inc. is a non-profit organization committed to cultivating young choral artists, spearhead research and development for children and youth choral movement, and promote Philippine music within the country and across the world. Aside from the Young Voices of the World, they have also launched variations in Asia and the Philippines, connecting 37 treble choirs across the globe with music. For the group, choral music is more than a discipline thatcultivates exemplary skill and artistry, but also an effective medium to unify people through message and song—harmonizing for hope and solidarity amidst the adversity.
Here is the list of choral groups for your reference:
Young Voices of the World
Cantemus Children's Choir (Hungary) cond. Maestro Dénes Szabó
Hamilton Children's Choir (Canada) cond. Ms. Zimfira Poloz
Kantabella (Philippines) cond. Mr. Jude B. Roldan
Kinderchor der Staatsoper Unter den Linden (Germany) cond. Mr. Vinzenz Weissenburger
Kodaly Conservatory Children's Choir (Greece) cond. Mr. Michalis Patseas
Leioa Kantika Korala Children's Choir (Basque Country, Spain) cond. Mr. Basilio Astúlez
Ponomaryov Vesna Children's Choir (Russia) cond. Dr. Nadezhda Averina
Shenandoah Valley Children's Choir (USA) cond. Dr. Janet Marie Hostetter
Soul Sounds Academy (Sri Lanka) cond. Ms. Soundarie David Rodrigo
Tygerberg Children's Choir (South Africa) cond. Ms. Karina Erasmus
The Bel Canto Youth Chorus of the Bach Choir of Bethlehem (USA) cond. Dr. Joy Hirokawa
Young Voices of the Philippines (Philippines) cond. Mr. Jude B. Roldan and Dr. Maria Theresa Vizconde-Roldan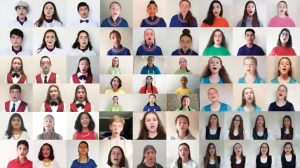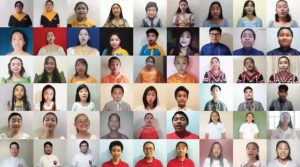 Young Voices of Asia



Hai Sing Catholic Secondary School Choir and Punggol Secondary School Choir (Singapore) cond. Mr. Marcus Lee
Ikeda Junior Choir (Japan) cond. Ms. Kayoko Shibuya
Kuala Lumpur Children's Choir (Malaysia) cond. Ms. Susanna Saw
Saint Angela Choir(Indonesia) cond. Mr. Roni Sugiarto
Seongam International Trade High School Choir (Korea) cond. Ms. Kwon Yong-sik
Taipei Philharmonic Youth and Children's Choir (Taiwan) cond. Ms. Sandy Fu
Wattana Girls' Chorus (Thailand) cond. Mr. Sathit Sukchongchaipruk
Kantabella (Philippines)
Young Voices of the Philippines (Philippines) cond. Mr. Jude B. Roldan and Dr. Maria Theresa Vizconde-Roldan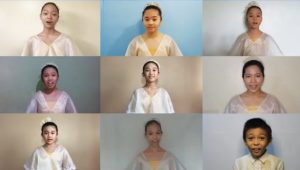 Young Voices of the Philippines Festival Choir



Baao Children & Youth Choir, cond. Mr. Hermelino Briones
Bitik Children's Choir, cond. Mr. Ron April Frias
Calasiao Children's Chorus, cond. Mr. Gilbert Allan Dispo
Dagupan City Children's Choir, cond. Virginia Llamas-Mendoza
Dreamweavers Children's Choir, cond. Ms. Perlyn Joy Enriquez
Himig Zamora Children's Choir, cond. Mr. Ivan Grulla
Kilyawan Boys Choir and Voces Aurorae Girls Choir, cond. Mr. Mark Anthony Carpio
Laoag City Children's Choir, cond. Mr. Vernix Magayano
Las Piñas Boys Choir, cond. Mr. Armando Salarza
Loboc Children's Choir, cond. Ms. Lea Claudia Cal
Mandaue Children & Youth Chorus, cond. Mr. Dennis Gregory Sugarol
Raz Singing Cherubim, cond. Ms. Alijah May Raz
Savio Singers, cond. Mr. Frinz Charles Casas
St. John the Baptist Children's Choir, cond. Mr. Bryan Lejano
Voices of the South Children's Choir, cond. Mr. Peter Buaya
Young Voices of the Philippines, Living Learning Children's Chorus, and Prayer Bible Fellowship Children's Choir, cond. Mr. Jude B. Roldan and Dr. Maria Theresa Vizconde-Roldan
Dr Maria Theresa Vizconde-Roldan completed her Doctor of Musical Arts in Music Education degree at Saint Paul University Manila. She also graduated as a Bachelor of Music in Music Education, cum laude and Master of Arts in Choral Conducting from the University of Santo Tomas Conservatory of Music. She teaches conducting, large ensemble classes and music education at the University of Santo Tomas Conservatory of Music, Centro Escolar University Conservatory of Music and Graduate School. To promote Filipino choral music and in their advocacy to strengthen the children's choral movement in the Philippines, Theresa, together with her husband Jude, arranges Filipino folksongs and writes choral music for children's choirs. They also founded the Treble Choir Association of the Philippines and its scholar choirs, the Young Voices of the Philippines and Kantabella, of which she is the conductor and the co-artistic director. They organised Groundwork for Choirs, a series of choral workshops for conductors around Southeast Asia, and released their book Groundwork for Part-Singing, a collection of short pieces to develop choristers' ability to sing in parts. Her choral works have been published, performed and premiered at various choral festivals and competitions around the world.These works were published by Hal Leonard Publishing Company and Pavane Publishing in the USA. She was one of the featured composers at the 2015 Pacific International Choral Festival in Eugene, Oregon, USA. As a sought-after choral instructor, children's choir conductor, guest conductor and choral clinician, Theresa has given conducting master classes, presented choral and music education lectures and led workshops around the Philippines, Singapore, Hong Kong, Malaysia, Indonesia, South Korea, Japan, Taiwan, China and the United States of America. She has also been invited to adjudicate in prestigious international choral festivals and competitions and has served as chairwoman for choir competitions in the National Music Competitions for Young Artists (NAMCYA) in the Philippines. Currently, Dr Maria Theresa Vizconde-Roldan is also the Vice President for Projects of the Philippine Choral Directors Association. Email: mtvizconderoldan@yahoo.com
Edited by Christopher Lutton, UK