Vaison la Romaine, Francia, 2-10 agosto de 2010
Jutta Tagger, Ex- Editora general del BCI
Un Festival, una Pasión
Es siempre con la misma emoción que uno entra al magnífico Teatro Antiguo de Vaison la Romaine en Provenza para comenzar la velada con el canto común, después escuchar un concierto acappella o con orquesta y solistas, o incluso una puesta en escena cantada por centenares de coralistas igual de bien que por un pequeño ensamble vocal.
Esta vigésima edición del festival, el cual reunió cerca de 6000 melómanos para aprender, cantar y escuchar la bellísima música coral de todos los orígenes, tradiciones, estilos y épocas estuvo a la altura de las expectativas.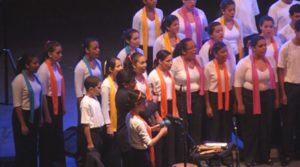 Desde sus inicios, este festival está abierto al mundo, por su música, sus participantes y sus directores. El libro del canto común es testigo de esta diversidad.
El programa incluía talleres de ocho, cinco o tres días (de descubrimiento  sin concierto final ), de un día ( un día , un director)  y otras manifestaciones. Este programa estaba dirigido a todas las edades y niveles.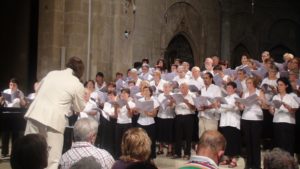 Aparte de los grandes conciertos especiales en el Teatro Antiguo (ver cuadro en la versión en inglés), la catedral, las iglesias, gimnasios y  capitales resonaban todas las tardes con las numerosas actividades musicales y conciertos ofrecidos por los talleres, las regiones A Cœur Joie o los coros participantes. Los lugares de encuentro estaban igualmente arreglados, como el Foro de los Directores de Coro,  el  Cuadrado de Jóvenes donde era posible encontrarse a tomar cualquier cosa y conversar o ver amigos, escuchar conferencias, cantar, etc. También hubo animaciones musicales en la ciudad y el tradicional desfile (esta vez con el tema de las estaciones) y durante una velada, los conciertos tuvieron lugar en los alrededores.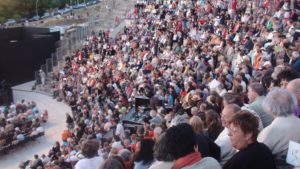 XXth Choralies festival 2010 – Evening Concerts at the Roman Theatre
Opening concert 
Calliope women's choir (France, cond. Régine Théodoresco)
Ensemble Sequenza 9.3 (France, cond. Catherine Simonpietri)
Schola Juvenil de Venezuela (cond. Luimar Arismendi & Ana Maria Raga)
Offenbach Follies
Solistes de Lyon (France, cond. Bernard Tétu), and Percussions Claviers de Lyon (France, cond. Gérard Lecointe, France),
 Soirée 20! (20th anniversary concert)
Tenebrae vocal ensemble (K.; cond. Nigel Short)
French Youth Choir (France; cond. Fred Sjöberg, Sweden)
Fusion youth choir (cond. Mick Wagner)
Rhythm and Songs
Percussions Claviers de Lyon (France)
Witloof Bay vocal quintet (Belgium)
Voces8 vocal group(K.)
"Dogora" by Etienne Perruchon (France)
Workshop concert (cond.Vincent Coiffet) with the Orchestre Symphonique des Alpes (France) and the Vaison-Ventoux children's choir (France; cond. Martial Renard, France)
Vocal Jazz
From Earth to Heaven
Robert Ray: Gospel Mass (workshop) and Jazz Trio, cond. by the composer (USA)
Faust (workshop "Between Heaven and Earth" and the Orchestre Symphonique des Alpes, France; René Falquet, Switzerland)
 Closing concert
Nils Lindberg: Requiem (workshop and Usine à Gaz big band (France), cond. Fred Sjöberg, Sweden
Handel: Saul, extracts (workshop, cond. Mark Shapiro, USA)
Beethoven: Fantasy for soloists, choir, piano and orchestra op. 80 (soloist: Nathanaël Gouin-Mossé, France, and the Orchestre Symphonique des Alpes ; cond. Martial Renard, France)
Open Singing: Néstor Zadoff, Argentina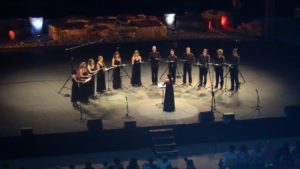 Novedad : El canto común bajo la eficaz y alegre dirección del argentino Néstor Zadoff, y las pausas fueron            "amenizadas" por pequeñas parodias musicales a cargo de un trío vocal de Lyon muy divertido llamado Triplex :  No hubo tiempos muertos entre las diferentes partes de una velada.
Los Choralies han presentado siempre obras de compositores franceses escritas para la ocasión. Este año, el compositor de la obra encargada,  Figura, sobre un poema de Jean-Pierre Caumeil, fue Patrick Burgan. Esta bella pieza fue cantada por los coristas de la región de Rhône bajo la dirección de Christine Morel con la presencia del compositor quien también participó en la conferencia – discusión "Escribir hoy en día para un coro amateur" . Se discutieron temas como la creación, difusión, reproducción, las especificaciones para el medido, la importancia del texto que se escoja, etc.
Estos vigésimos Choralies proveyeron el marco de una exposición en la  clausura en la catedral remontándose a la vida del festival desde 1953, acompañada de un libro de recuerdo.
Este festival se realizó gracias a más de 400 voluntarios locales o extranjeros. Sin ellos y el apoyo de los servicios técnicos de la ciudad sería imposible organizar este evento cada tres años en una pequeña ciudad como Vaison sin una infraestructura adecuada (aparte del Teatro Antiguo).
Todo debe reinventarse, y reacomodarse cada vez para recibir los miles de cantantes en buenas condiciones de alojamiento, alimentación, lugares de ensayo y  de conciertos, jefes de escena, sistema de comunicaciones, etc. ¡Y todo lo hacen con una sonrisa en la cara!
Fue de nuevo un festival excepcional en la "cita coral europea" de una gran belleza y calor humano: todo un éxito
¡Gracias a todos los que contribuyeron para que así fuera!
E-Mail: jutta.tagger@wanadoo.fr
Traducción del Francés María Catalina Prieto, Colombia