Vaison la Romaine, Frankreich, 2.-10. August 2010
Jutta Tagger, ehemalige Chefredakteurin, ICB
« Ein Festival, eine Leidenschaft »
Immer ist die Emotion groß, wenn man das majestätische Römische Amphitheater im provenzalischen Vaison la Romaine betritt und der Abend mit dem Gemeinsamen Singen beginnt, gefolgt von einem Chorkonzert, a cappella oder mit Orchesterbegleitung und Solisten oder sogar mit einer Inszenierung, gesungen von Hunderten von Choralisten oder einem kleinen Vokalensemble.
Das zwanzigste Jubiläum des Festivals machte da keine Ausnahme. Bis zu 6.000 Musikliebhaber kamen zusammen, um gute Chormusik aller Traditionen, Style und Epochen zu erlernen und zu singen oder auch nur anzuhören.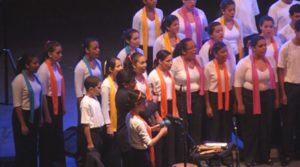 Von Anfang an ist das Festival der Welt gegenüber offen gewesen, was Musik, Teilnehmer und Dirigenten angeht. Das Liederbuch für das Offene Singen ist ein Beispiel für diese multikulturelle Vielfältigkeit.
Das Programm bot achttägige, fünftägige und dreitägige Ateliers (letztere ohne Abschlusskonzert). Es gab auch eintägige Workshops ("Ein Tag, ein Dirigent") und andere Angebote; kurz, etwas für jedes Alter und Niveau.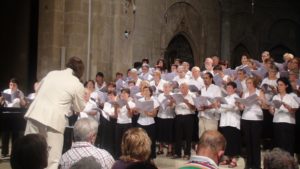 Außer den großen Jubiläumskonzerten im Römischen Theater (siehe Kasten im engl. Hauptteil des ICB), fanden jeden Nachmittag musikalische Aktivitäten und Konzerte (von Ateliers, A Coeur Joie Regionen oder einzelnen Chören) in der Kathedrale, den Kirchen, Sporthallen und Zelten statt. Im "Dirigentenforum" oder dem "Carré Jeunes" (Treffpunkt für die Jugend) konnte man sich erfrischen, diskutieren, singen, Bekannte treffen, Vorträge anhören, usw. Auf öffentlichen Plätzen wurde ebenfalls Musikalisches geboten, und die traditionelle Parade (dieses Mal mit dem Thema "Jahreszeiten") darf nicht unerwähnt bleiben.
An einem Abend fanden Konzerte nur in der Umgebung von Vaison statt.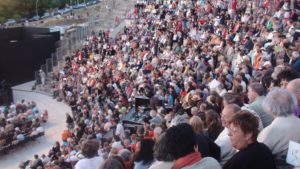 XXth Choralies festival 2010 – Evening Concerts at the Roman Theatre
Opening concert 
Calliope women's choir (France, cond. Régine Théodoresco)
Ensemble Sequenza 9.3 (France, cond. Catherine Simonpietri)
Schola Juvenil de Venezuela (cond. Luimar Arismendi & Ana Maria Raga)
Offenbach Follies
Solistes de Lyon (France, cond. Bernard Tétu), and Percussions Claviers de Lyon (France, cond. Gérard Lecointe, France),
 Soirée 20! (20th anniversary concert)
Tenebrae vocal ensemble (K.; cond. Nigel Short)
French Youth Choir (France; cond. Fred Sjöberg, Sweden)
Fusion youth choir (cond. Mick Wagner)
Rhythm and Songs
Percussions Claviers de Lyon (France)
Witloof Bay vocal quintet (Belgium)
Voces8 vocal group(K.)
"Dogora" by Etienne Perruchon (France)
Workshop concert (cond.Vincent Coiffet) with the Orchestre Symphonique des Alpes (France) and the Vaison-Ventoux children's choir (France; cond. Martial Renard, France)
Vocal Jazz
From Earth to Heaven
Robert Ray: Gospel Mass (workshop) and Jazz Trio, cond. by the composer (USA)
Faust (workshop "Between Heaven and Earth" and the Orchestre Symphonique des Alpes, France; René Falquet, Switzerland)
 Closing concert
Nils Lindberg: Requiem (workshop and Usine à Gaz big band (France), cond. Fred Sjöberg, Sweden
Handel: Saul, extracts (workshop, cond. Mark Shapiro, USA)
Beethoven: Fantasy for soloists, choir, piano and orchestra op. 80 (soloist: Nathanaël Gouin-Mossé, France, and the Orchestre Symphonique des Alpes ; cond. Martial Renard, France)
 Open Singing: Néstor Zadoff, Argentina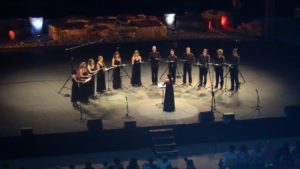 Neu war, dass das Offene Singen (unter der bewährten Leitung des immer frohgemuten Néstor Zadoff aus Argentinien) sowie die Konzertpausen von musikalischen Sketchen untermalt wurden, und zwar durch ein sehr lustiges und fantasievolles Trio aus Lyon namens Triplex. Man langweilte sich nicht eine Minute.
Seit den ersten Choralies 1953 wurde immer ein neues, für den Anlass geschriebenes  Werk vorgestellt. Den Auftrag für 2010 hatte Patrick Burgan erhalten. Sein sehr klangvolles Stück, Figures, auf ein Gedicht von Pierre Caumeil, kam mit Chorsängern der Region Rhône geleitet von Christine Morel unter Anwesenheit des Komponisten zur Aufführung. Patrick Burgan nahm ebenfalls an einer Paneldiskussion "Heute für Amateurchöre komponieren" teil. Es war die Rede vom Komponieren, der Verbreitung und Veröffentlichung, vom "Pflichtenheft" für das Auftragswerk, der Bedeutung der Textauswahl u.a.m.
Im Rahmen dieser 20. Choralies fand auch eine Ausstellung über die Entwicklung des Festivals (mit Souvenirbuch) seit 1953 statt.
Über 400 ehrenamtliche Helfer aus Frankreich oder dem Ausland waren gekommen. Ohne sie und die Unterstützung der technischen Dienste der Stadt wäre es nicht möglich, alle drei Jahre so ein riesiges Festival in einer so kleinen Stadt wie Vaison la Romaine zu veranstalten, die außer dem Römischen Amphitheater keine angemessene Infrastruktur besitzt. Alles muss jedes Mal neu erfunden und neu aufgebaut werden, um Tausende von Chorsängern unter möglichst guten Bedingungen aufzunehmen (Unterbringung, Essen, Probe- und Konzerträumlichkeiten, Bühnenbetrieb, Kommunikationssysteme…). Und alles lief immer mit einem Lächeln ab.
Menschlich und musikalisch gesehen waren diese Choralies in der "Europäischen Chorstadt" wieder einmal ein außergewöhnliches Ereignis.
Tausend Dank an alle, die zu dem Erfolg beigetragen haben!
E-Mail: jutta.tagger@wanadoo.fr