Vaison la Romaine, France, 2-10 août 2010
Jutta Tagger, anciennement rédactrice en chef, ICB
« Un festival, une passion »
C'est toujours avec la même émotion qu'on entre dans le magnifique Théâtre Antique de Vaison la Romaine en Provence pour commencer la soirée avec un Chant Commun, puis écouter un concert a cappella ou avec orchestre et solistes, ou même une mise en scène, chantés par des centaines de choralistes aussi bien que par un petit ensemble vocal.
Cette vingtième édition du festival qui a réuni jusqu'à 6000 mélomanes pour apprendre, chanter et écouter de la belle musique chorale de toutes les origines, traditions, styles et époques, fut à la hauteur des attentes.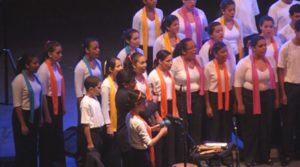 Depuis ses origines, ce festival est ouvert au monde, de par sa musique et ses participants et ses chefs. Le livret du Chant Commun témoigne d'ailleurs de cette diversité.
Le programme comportait des ateliers de huit, cinq ou de trois jours (de « découverte », sans concert final), puis des ateliers d'un jour (« Un jour, un chef ») et d'autres manifestations, et s'adressait à tous les âges et niveaux.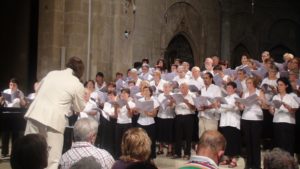 En dehors des grands concerts spéciaux au Théâtre Antique (voir encadré dans la version anglaise), dans les cathédrales, églises, gymnases et chapiteaux résonnaient tous les après-midis grâce à de nombreuses activités musicales et concerts donnés par les ateliers par les régions «A Cœur Joie » ou par les chœurs constitués. Des lieux de rencontre avaient également été aménagés, comme le « Forum des Chefs de Chœur », le « Carré-Jeunes », où il était possible de se retrouver pour se rafraîchir  et discuter ou voir des amis, écouter des conférences, chanter, etc. Il y avait aussi des animations musicales en ville et le traditionnel défilé (cette fois-ci sur le thème des saisons), et pendant une soirée  plusieurs concerts ont eu lieu dans les environs.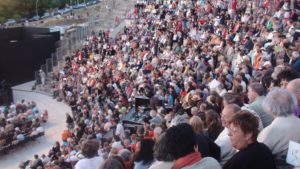 XXth Choralies festival 2010 – Evening Concerts at the Roman Theatre
Opening concert 
Calliope women's choir (France, cond. Régine Théodoresco)
Ensemble Sequenza 9.3 (France, cond. Catherine Simonpietri)
Schola Juvenil de Venezuela (cond. Luimar Arismendi & Ana Maria Raga)
Offenbach Follies
Solistes de Lyon (France, cond. Bernard Tétu), and Percussions Claviers de Lyon (France, cond. Gérard Lecointe, France),
 Soirée 20! (20th anniversary concert)
Tenebrae vocal ensemble (K.; cond. Nigel Short)
French Youth Choir (France; cond. Fred Sjöberg, Sweden)
Fusion youth choir (cond. Mick Wagner)
Rhythm and Songs
Percussions Claviers de Lyon (France)
Witloof Bay vocal quintet (Belgium)
Voces8 vocal group(K.)
"Dogora" by Etienne Perruchon (France)
Workshop concert (cond.Vincent Coiffet) with the Orchestre Symphonique des Alpes (France) and the Vaison-Ventoux children's choir (France; cond. Martial Renard, France)
Vocal Jazz
From Earth to Heaven
Robert Ray: Gospel Mass (workshop) and Jazz Trio, cond. by the composer (USA)
Faust (workshop "Between Heaven and Earth" and the Orchestre Symphonique des Alpes, France; René Falquet, Switzerland)
 Closing concert
Nils Lindberg: Requiem (workshop and Usine à Gaz big band (France), cond. Fred Sjöberg, Sweden
Handel: Saul, extracts (workshop, cond. Mark Shapiro, USA)
Beethoven: Fantasy for soloists, choir, piano and orchestra op. 80 (soloist: Nathanaël Gouin-Mossé, France, and the Orchestre Symphonique des Alpes ; cond. Martial Renard, France)
 Open Singing: Néstor Zadoff, Argentina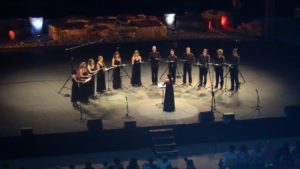 La nouveauté : Le Chant Commun, sous la direction efficace et joyeuse de Néstor Zadoff (Argentine), et les pauses ont été « assaisonnés » de petits sketches musicaux par un trio vocal très drôle de Lyon du nom de Triplex : pas de temps mort entre les différentes parties d'une soirée.
Les Choralies ont toujours présenté des œuvres de compositeurs français écrites pour l'occasion. Cette année, le compositeur de l'œuvre commandée, Figure, d'après un poème de Jean-Pierre Caumeil, fut Patrick Burgan. Cette belle pièce fut chantée par les choristes de la région Rhône sous la direction de Christine Morel en présence du compositeur. Il a également participé à la conférence-discussion « Ecrire aujourd'hui pour chœur amateur ». Il y était question de création, diffusion et reproduction, du « cahier des charges » pour la commande, de l'importance du texte choisi, etc.
Ces XX° Choralies ont fourni le cadre d'une exposition dans le cloître de la cathédrale retraçant la vie du festival depuis 1953, accompagnée d'un livre souvenir.
Ce festival est porté par plus de 400 bénévoles, locaux ou venus d'ailleurs. Sans eux et l'appui des services techniques de la ville, il serait impossible de l'organiser tous les trois ans dans une petite ville comme Vaison, sans infrastructure adéquate (en dehors du Théâtre Antique). Tout est à réinventer, à réaménager à chaque fois pour accueillir des milliers de chanteurs dans de bonnes conditions (logements, restauration, lieux de répétitions et de concerts, régie de scène, système de communications…). Et tout est fait avec le sourire !
Ce fut de nouveau un festival exceptionnel dans la « cité chorale européenne », d'une grande beauté et de chaleur humaine : un plein succès.
Merci à tous ceux qui y ont contribué !
E-Mail: jutta.tagger@wanadoo.fr