Digna Guerra, Chorkomponist und Lehrer
Electo Silva Gainza verstarb am 30. Mai 2017. Er war Lehrer, Komponist, Arrangeur, Chorleiter und Gründer des Santiago Orfeon Choir und des University Choir.
Silva Gainza wurde am 1. November 1923 in Santiago de Cuba geboren. Er schloss sein Studium der Psychologie und Pädagogik an der Universidad de Oriente ab. 1955 gründete er seinen ersten Chor, die Polyphonic Singers, und von da an widmete er sich der Förderung des Chorsingens und hatte beträchtlichen Einfluss auf das Chorsingen in Kuba Er gründete 1961 das Festival Nacional de Coros (Nationales Chorfestival), an dem Chöre aus vielen verschiedenen Ländern teilnahmen und das später das Festival Internacional de Coros de Santiago de Cuba (Santiago de Cuba International Choir Festival) wurde. Er bildete mehrere Kinderchöre und auch den herausragenden Frauenchor 'Coro Femenino Sirenas' del Conservatorio Esteban Salas.
Er dirigierte viele bedeutende chorsinfonische Werke, vor allem die Chorfantasie von Ludwig van Beethoven, die Cantata Alejandro Nevski von Prokofiev und die Cantata to Santiago de Cuba von Calixto Alvarez.
Auf internationaler Ebene arbeitete er mit dem Chor von Gothenburg (Schweden), dem Tritonus Chor (Dänemark), dem Kinderchor des Dresdener Rundfunks (Deutschland) und dem Universitätschor von Veracruz.
Als Komponist schrieb er für alle Arten von Chören: Kinderchöre, männliche und weibliche Jugendchöre und gemischte Chöre. Seine Arbeiten wurden in Kuba, Dänemark, Schweden, den Vereinigten Staaten von Amerika und Frankreich verlegt und bei Wettbewerben in Lateinamerika und Europa eingereicht.
Electo Silvas Chorwerke, sowohl die Originalwerke als auch seine Arrangements, sind erkennbar dank des Timbres und der Tonlagen, wie sie kubanische Sänger verwenden.
Seine Verwendung rhythmischer Figuren, wie sie in der traditionellen kubanische Volksmusik zu finden sind, die Verwendung von Polyrhythmik innerhalb dieser Figuren und sein allgemeiner Beitrag zur Chorliteratur erklären, warum er als die Führungsfigur der kubanischen Chormusik angesehen wird.
Er erhielt mehrere Ehrenmedaillen, darunter eine für Nationalkultur (2001) und den Felix Varela de Primer Grado Orden, den der Staat Kuba verlieh
Zu seinen wichtigsten Veröffentlichungen gehören:
30 canciones populares cubanas (30 Popular Cuban Songs)
Canciones del Caribe (Caribbean Songs)
Homenaje a la Trova (Homage to Trova)
Haiti Canta. (Haiti Song)
Er veröffentlichte auch theoretische Bücher über Chormusik.
Santiago de Cuba trauert, wie auch die ganze kubanische Chorbewegung. Ich bin mir sicher, dass viele Chöre in aller Welt, die seine Musik gesungen haben, genauso traurig über seinen Verlust sein werden wie wir.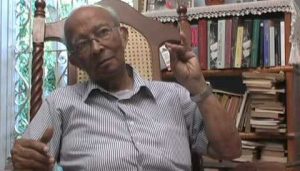 Übersetzt aus dem Englischen von Lore Auerbach, Deutschland