Internationales Symposium für Chorusologie¹ – Chorkunst, Gesang und Stimme
24.- 26. April 2014 in Zagreb, Kroatien
Branko Stark
Präsident des Kroatischen Chorleiterverbandes
Seit seiner Gründung ist der Kroatische Chorleiterverband (HUZ) in zwei verschiedene Richtungen gewachsen. Eine Richtung befasst sich mit der Profilierung der nationalen Entwicklung für den Chorleiterberuf und Chormusik in Kroatien, die andere ist das internationale Programm IPDCM (International Project for the Development of Choral Music). Es beinhaltet künstlerische, pädagogische und wissenschaftliche Programme, mit denen wir nach bestem Wissen und Können versuchen, an der weltweiten  Weiterentwicklung der Chormusik mitzuwirken. Zu diesem Zweck haben wir mehrere internationale Chorwettbewerbe in Kroatien ins Leben gerufen, sowie eine Reihe internationaler Kurse für  Chorleiter, Komponisten und Sänger in verschiedenen Ländern (Malaysia, Indien, Südafrika, Solomonen-Inseln, Iran).
Um den Bezug zur Wissenschaft zu verdeutlichen, haben wir den Begriff "Chorusologie" (aus chorus + logos) geprägt, der für den multidisziplinären wissenschaftlichen Ansatz in der Chorkunst steht. Um diesen Ansatz weiter voran zu bringen, haben wir das International Choral Institute als wissenschaftlichen Zweig der HUZ in unserem  Verband gegründet und wollen im nächsten Jahr mit der Veröffentlichung wissenschaftlicher Texte zu Themen der Chorusologie auf unserem Online-Portal arschor@lis beginnen. Der wichtigste Teil unseres internationalen Programms ist das Internationale Symposium für Chorusologie  ARS CHORALIS für Chorkunst, Gesang und Stimme.
Seit 2010 wird es regelmäßig im Zwei-Jahres-Rhythmus in Zagreb, der Hauptstadt Kroatiens, organisiert. Das nunmehr dritte Symposium wird dort vom 24. – 26. April 2014 stattfinden.
Gemäß dem multidisziplinären Ansatz der Chorusologie soll dieses Symposium Raum geben für Vorträge und Workshops aus den Bereichen Chorleitung; Stimmbildung; Dirigat und Interpretation; Komposition/Analyse/Hermeneutik; Performance und Stilistik; Sprechstimme; Stimmphysiologie/Audiologie; Wissenschaft und Musik; Musikpädagogik; Musica Sacra; Musik und Medien u.a..
Wir erwarten folgende Gastdozenten: Marvin Keenze (USA), Johan Sundberg (Schweden), Christian Herbst (Österreich), Thomas Caplin (Norwegen), Andrea Angelini (Italien), Annemarie van der Walt (Südafrika), Vanags Romans (Lettland), Wolfgang Ziegler (Österreich), Giovanni Acciai (Italien), Irena Hočevar-Boltežar (Slowenien), John Hooper (Kanada), Kittiporn Tantrarungroj (Thailand), Susanna Saw (Malaysia) und andere.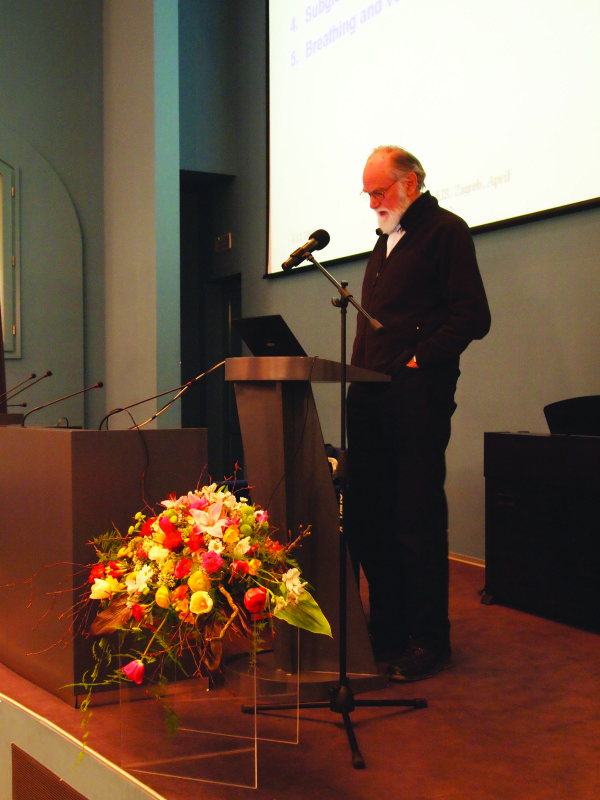 Unsere Idee ist, Chormusik und Wissenschaft in bestmöglicher Weise miteinander zu verbinden. Das Symposium soll dazu beitragen, die Chorarbeit international zu verbessern, und sieht sich selbst als Ergänzung zu anderen Symposien. Wir hoffen damit Anregungen für Chorleiter zu geben, um mehr aktuelle wissenschaftliche Erkenntnisse in ihre künstlerische und pädagogische Arbeit zu integrieren. Das Wissen über die Stimme und den Gesang wächst täglich, aber unserer Meinung nach nutzen viele Chorleiter das nicht in ausreichendem Maße. Auf der anderen Seite sind wir ebenso an Forschern und Wissenschaftlern interessiert, die sich mit Chorgesang und Chormusik befassen, um die Ziele in der zukünftigen Arbeit weiter zu präzisieren und bewusster anzugehen. Aus diesem Grunde sind die Programmpunkte offen für ein breites Publikum, sodass alle, die direkt oder indirekt mit Chormusik, Gesang oder der Stimme zu tun haben, teilnehmen können.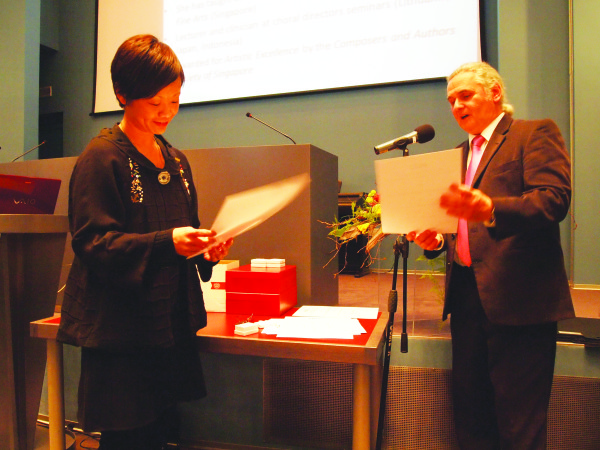 Wir legen großen Wert auf eine besondere Aufmerksamkeit für die Präsentation und die Aktivitäten der IFCM, zusammen mit dem ICB, um diesen Punkt werden sich Andrea Angelini und Annemarie von der Walt kümmern.
 Auf der AC 2012 waren 53 Dozenten aus 18 Ländern mit 63 Vorträgen und Workshops vertreten. Die AC 2014 ist Jakov Gotovac gewidmet, einem der bedeutendsten kroatischen Komponisten. Das Symposium wird in englischer und kroatischer Sprache abgehalten, für den zweiten Tag ist ein großes Chorkonzert mit Gastchören aus Slowenien und Lettland geplant. Die Ausschreibung für Vorträge und Workshops ist offen, Anmeldeschluss ist der 15. Dezember 2013.
Weitere Informationen zum Symposium und dem kroatischen Chorleiterverband finden sich auf www.choralcroatia.com.
¹ Chorusologie: Pflichtfach in der Ausbildung für Chorleiter und Musikpägagogen in vielen osteuropäischen Ländern
Übersetzt aus dem Englischen von Heide Bertram, Deutschland
Edited by Will Masters, UK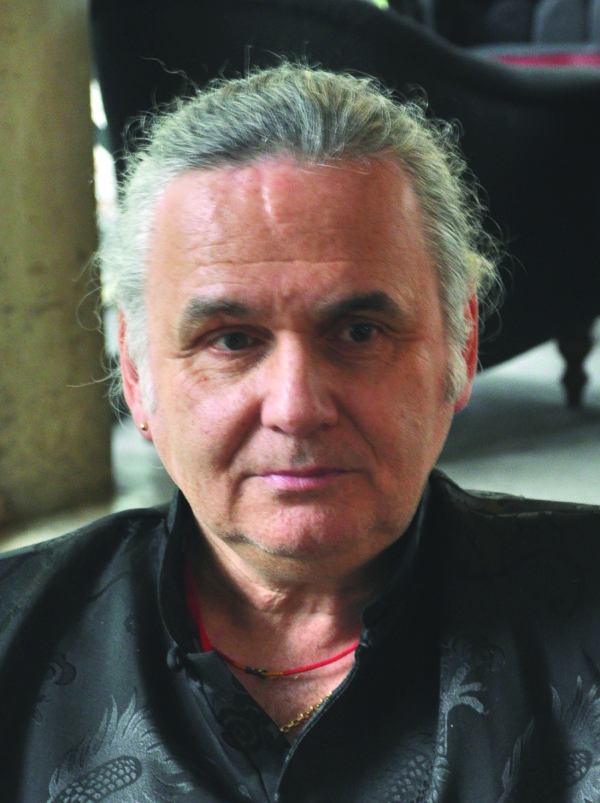 Branko Stark (1954), composer, conductor and voice instructor, is a teacher at the Arts Academy (University of Split-Croatia). He has written over two hundred compositions for which he is the recipient of numerous awards. He teaches singers, choral directors, composers, actors, speech therapists, phoneticians and speakers and also engages in voice rehabilitation. Mr. Stark has participated in more than thirty scientific symposiums and has been guest professor at many faculties in Croatia and abroad. His specialty is the theory and practice of voice, vocal stylistics and expression stylistics in singing and speech, hermeneutics and works published on these subjects. He gives lectures, seminars, master classes and workshops worldwide (Argentina, China, Slovenia, Denmark, France, Great Britain, USA, Korea, South Africa, Iran, Malaysia, Indonesia, Thailand, Sri Lanka, India, Hong Kong, Singapore, Brunei, Latvia). Mr. Stark is also a prominent adjudicator for many international choral competitions (Croatia, Germany, Italy, Austria, China, Indonesia, Malaysia, Sri Lanka, Japan, Korea). He is President of the Croatian Choral Directors Association, head of the Vocal Academy, a member of the International Council of the World Choir Games and member of the International Federation for Choral Music. Email: info@choralcroatia.com